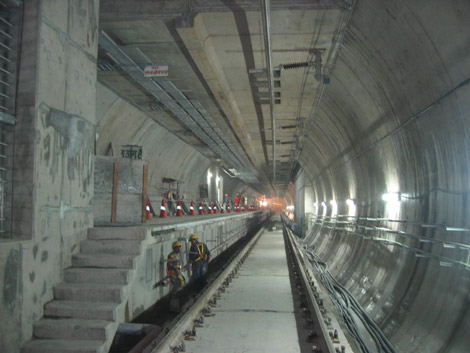 Aug 18, 2014: Feasibility Study Okays Twin Tunnels Under River As Part Of Delhi-Meerut Corridor The capital is likely to get the country's first twin tunnels under a river as part of the 90km rapid rail transit system (RRTS) between Delhi and Meerut.
The twin tunnels will go under the Akshardham temple, Commonwealth Games Village and the Yamuna, connecting the Anand Vihar station with Hazrat Nizamuddin station and the adjacent interstate bus terminus at Sarai Kale Khan. In 2010, Calcutta Metro Railway Corporation had decided to build twin tunnels under the Hooghly river as part of its East-West Metro link. Although a consortium was awarded the project and equipments were procured, the work is yet to start due to a land logjam.
Earlier this year, the lieutenant governor of Delhi had approved the alignment for the city stretch of the Delhi-Meerut cor ridor. Both stations at Anand Vihar and Hazrat Nizamuddin will be underground.
"The alignment has been approved on the basis of a feasibility study. Now, a detailed project report (DPR) will be prepared, which will decide the exact technology and concepts to be used to construct this 10.7km stretch," said a government official.
According to officials, the feasibility study has suggested construction of twin tunnels.
"However, DPR will decide if twin tunnels will be built for the up-and-down lines or if it will be a single tunnel for highspeed trains," said the official.
Twin tunnels, he said, are perceived to be more stable and safe for high-speed trains. "The trains will travel at 160kmph, which require a precise and stable system. Twin tunnels may in that case be the best solution," he added.
Delhi Metro till now has built its underground network under surface land and stations have come up along the Yamuna banks, such as Sarai Kale Khan station in Phase III. However, high construction costs as well as safety concerns of taking a tunnel under the river have kept it away from such a project, said officials.
Coming from Mohan Nagar in Sahibabad, the corridor will come to Anand Vihar, which already has a Metro and a railway station as well as an ISBT.
Thereafter, it will travel underground to Patparganj and then to Noida Link Road before going under the Akshardham temple and Commonwealth Games Village. It will continue travelling under the river before coming up for a brief stretch near Ring Road.
It will terminate at a station located under Hazrat Nizamuddin and near the Sarai Kale Khan ISBT. The project will be undertaken by NCR Transport Corporation (NCRTC), a specialpurpose vehicle set up to build the rapid rail transit system (RRTS) project, which is to connect Delhi with Panipat, Alwar and Meerut.
Source: timesofindia.com