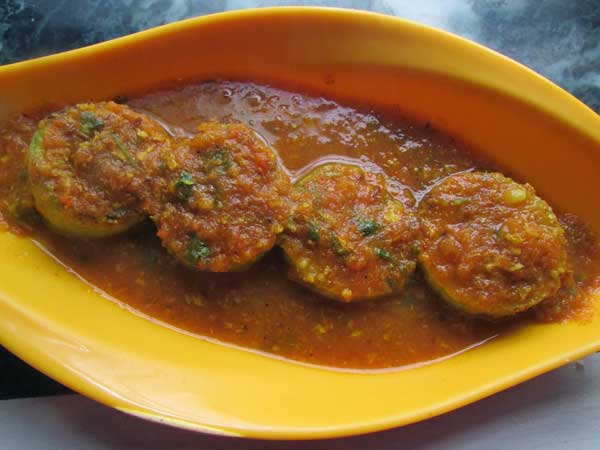 In a vessel boil the peeled bottle gourd with a tablespoon of salt till cooked.
Now cut the ends of gourds to remove pith inside it using a long spoon or a fork. Heat oil on a pan and place the hollow gourd on it. Cook it till the skins turns brown and it crisps up. Keep turning the gourd until it is golden brown from all the sides.
In a deep pan, heat oil and add cumin seeds and let it crackle, add the chopped onions and sauce it till they become soft and transparent. Once done, add the capsicum, crumbled paneer, salt, coriander powder, red chilly flakes and mix it properly. Cook it for 1-2 minutes more and set it aside to cool down.
Next fill this paneer bhurji in the bottle gourd and slice it into 1 inch thick slices. After cutting it into thick slices, place the slices back on the pan to cook. Cook them till the both the sides turn brown.
Heat oil in a pan and add cumin seeds, add the chopped onion till they become soft. Add chopped tomatoes and sauce till they are properly cooked. Once done, add the turmeric powder, coriander powder, salt to taste, the leftover bhurji and the pith of the gourd that you have kept aside. Cook them properly.
Once their starts separating, use a hand blender and make a paste of the mixture in the pan itself. Now add 1 cup of water and let it cook for a couple of minutes. Add sugar, kasoori methi and slices of the gourd and boil it till the gravy thicken and garnish it with the chopped coriander leaves and cream.
Ingredients
1 Bottle gourd (lauki)
2 Onions chopped
2 Tomatoes
1 teaspoon Red Chilli powder
1/4 teaspoon Turmeric powder (Haldi)
1 teaspoon Coriander Powder (Dhania)
1 teaspoon Cumin seeds (Jeera)
4 tablespoon Oil
1 tablespoon Kasuri Methi (Dried Fenugreek Leaves)
Salt to taste
3 sprig Coriander (Dhania) Leaves, finely chopped
For Paneer Bhurji(stuffing)
1 cup Paneer (Homemade Cottage Cheese), crumbled
1 teaspoon Cumin seeds (Jeera) cumin seeds
1 Onion finely chopped
1/2 Green Bell Pepper (Capsicum), finely chopped
1 Green Chilli finely chopped
1 teaspoon Coriander Powder (Dhania)
1 teaspoon Red Chilli flakes
1 teaspoon Fresh cream