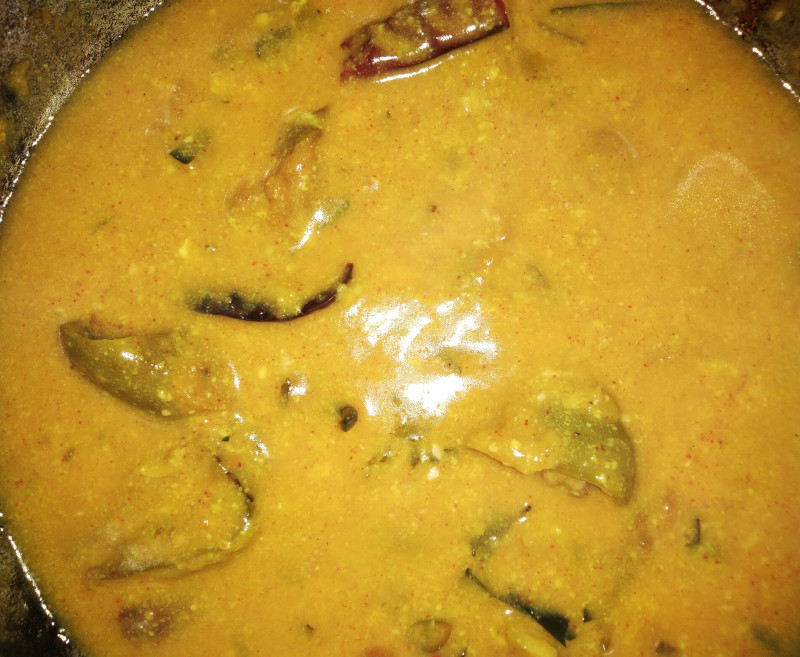 A tasty dish of kadhi has fried chickpea pakoris in seasoned pool of chickpea gravy, when served along with steamed rice this makes for a perfect meal.
Ingredients of Besan Kadhi
2 Cups yogurt
1 cup gram flour
1 tsp turmeric
1 tsp chilli powder
to taste salt
1 tsp garam masala
5 cups water
1/4 cup oil
1/2 tsp asafoetida
2 tsp cumin seeds
5-6 Whole red chillies
2-3 Chopped Garlic
5-6 Kadi Patta
For tempering:
1 tbsp oil
1 tsp chilli powder
For the pakoris:
1 cup gram flour
1 tsp salt
1/2 cup oil
Mix the chickpea flour, turmeric, chilli powder, salt and garam masala.
Add yogurt gradually to this mixture to form a smooth paste, and then add the water.
Heat the oil in a large, heavy-based pan; add the asafoetida, cumin seeds and the whole red chillies.
When the cumin seeds begin to splutter, add the flour and yogurt mixture and bring to a boil.
Simmer over a low heat till it thickens a bit.
Prepare the pakoris:
Mix the ingredients listed above into a smooth batter with enough water to form a thick dropping consistency. Let the batter rest for at least 15 minutes.
In a frying pan, heat 1/2 cup of oil.
Beat the pakori mixture till light and fluffy and add teaspoons full of the mixture.
Reduce heat to medium and fry the pakoris.
When the pakoris fluff up, and the base becomes golden-brown, turn them over and brown on the other side.
Scoop out the pakoris from the oil and drop them into a kadahi. Repeat this procedure with the rest of the mixture.
Transfer the hot kadahi into a serving dish.
Heat the oil, add chilli powder and pour over the kadahi immediately to garnish.