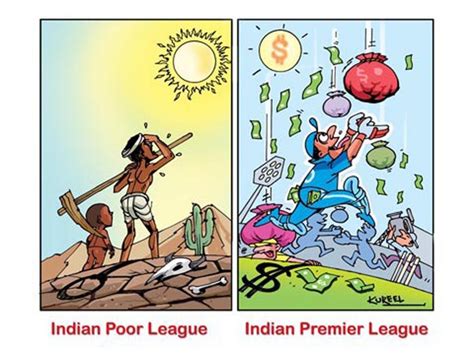 Thank god I stopped following cricket a few years back for good reasons. Young India should not waste it's precious time, energy, or thoughts on something that is beyond control, just for bucks, sounds fixed with stinking corruption … Only the crazy lot who have lots of time to waste can watch such senseless games of cricket re-mix, money spinning, endless corruption.. Some say that fixing scandals are linked to the D Company, so what when REAL companies and power bhakts are doing the same or worse, officially. Maybe few big sponsors, political / govt proxies and supporters will back out of these showcases for a while, but they will come back again, after all there is huge money and fame at stake. IPL has taken cricket to an uncharted territory while real ethical cricket is fast disappearing. Other real games like Hockey, Football, Cycling, Swimming, Gymnastics etc are either neglected or just done for formal showoffs and to exhaust federation budgets.
Whom are they really looting & fooling? Only you and me – the common crazy Indian followers on whose behalf they drum worldwide and grab cuts! Yes, and the owners, players, sponsors, controlling boards, politicians, media, governments, law / security agencies, etc.. are rarely affected by such acts, except when situation is hot for 1/2 days. Who can stop these bookies, touts and agents (and why?) when a few hundred kings and queens sitting on top (in states and center) dare to loot from hard-earned cash reserve of a billion+ Indians in both hands in association with friends and family.
For Cricket punters it's big money, needless to say, they love it, and the IPL, seems booming with sale of media rights and players as brand slaves. Hardly a news that Bollywood stars and the so-called franchise owners are always after quick money, like their counterparts in politics and big business. For advertisers, the cricket fans in India are an especially enticing crowd, with around 45% of them free-spending 15-35 year old folks with plenty of time to indulge in hype stuffs influenced by head-less leaders. An early breakdown for the last season also shows a significant hike in the number of women watching, to around 38% of the total audience. These figures indicate an unparalleled opportunity to get into the heads of India's vast and growing middle class, indirectly educating them that corruption is all well. By contrast, the last opening match of the hockey world cup, the premier tournament for what is arguably India's second-favorite sport, drew only 8m viewers last month – though it was held in Delhi and pitted India against Pakistan.
There are enough reasons why we must start to dislike and fight against such Cricket Corruption Tournaments, and boycott using products and services offered by BIG sponsors and media houses who are just looking for more customers to fool using cricket emotion! Why not adjust with existing nudity / greed in World Heavyweight Shows and Tournaments instead?
Zero Cricket. No more than gaming of big brand sponsors, big TRP, big money, big boss, T20 लाभार्थी and BCCI कार्यकर्ता ! Do you know, the Indian team have traveled round the world, 19000 kms to South Africa, just to fun play a one-off T20 game before coming back again for IPL some time back? Imagine the long travel and misuse of resources just to play a three hour game – 30000 Indians could have been out of poverty with such spending! The IPL ceremonies are merely a showcase of greed and sheer waste of money showcasing half-nude women and useless extravaganza. F: Mar 30, 2014