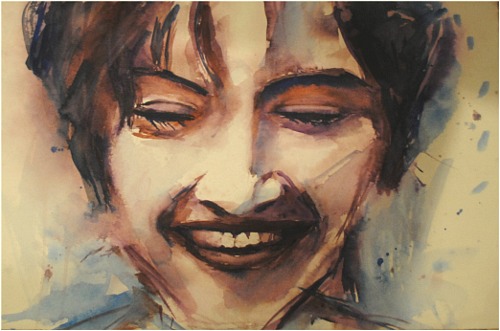 Demands for bribes and undue payments for treatment are rife in rotten health-care systems. In one case nurses performed a cut to help with a difficult delivery and then left the woman with an open wound for hours. When she eventually passed out from bleeding, her sister-in-law begged for help from the nurses. They replied: "Show us how much you want her to survive," according to a report @GuardianGDP (Apr 11, 2014). They stitched her cut only after receiving a bribe of 100 rupees, each. Fighting these mind / mental diseases is real celebration of women's day and feminism, beyond mere tokenism!
Under the UN's proposed sustainable development goals, due to replace the millennium goals at the end of this year, governments will aim to bring the global maternal mortality ratio down to less than 70 deaths per 100000 by 2030. Tackling malnutrition is a key part of achieving that – anaemia, for example, suffered by between 70-90% of Assam's laborers, is a leading cause of maternal death across the developing world. Government has set up programmes to distribute food and supplements to mothers and children via local centers called Anganwadis. But people are often denied their rations, either because health officials failed to order supplies or because they sold them and pocketed the cash.
Anyway, start with this date to generate more fuel to fight forced marriages, teasing, female infanticide, gender bias, religious filtering, slavery, trafficking, corruption, cultural bias, illegal sex, rape etc.. May our souls be deeply involved when we celebrate International Women's Day – this cannot be a one day affair or just tokenism for promotion of the elite feminism and their vested interests – politics, cosmetics, jewelery, fashion, apparels, crowd gathering, sex rackets, NGO funds for loot, quick-fame, brand promos, and the like. A section of modern women here do participate fully in education, sports, politics, media, art and culture, service sectors, science and technology, etc.. but unfortunately it is limited to certain classes and its derivatives only, thanks mainly to bias and corruption, starting from a child's birth.
Stronger linkages need to be made between existing scholarship on gender, development and anti-corruption. A large and growing body of research already exists that examines gender equity and women's participation in governance. However, corruption is often neglected as a barrier to achieving these goals. At the same time, anti-corruption research needs to more explicitly recognize and mainstream gender as a serious obstacle in the fight against corruption.
There is currently a great need for more gender dis-aggregated corruption data, both to better understand how corruption affects women and the role they can play in combating it. In addition, measurements of corruption may also need to expand their scope of analysis to include sexual exploitation, which is a specific form of corruption that only women experience. Only with the help of such comprehensive and in-depth research can we hope to eliminate the barriers corruption imposes on gender equity, and ultimately, on development.
On the brighter side, women are well capable of asserting for right causes and liberate without need for a gender based sociopolitical revolution or mentoring from ultra-rich feminists, and it is also futile to think of the whole class of men as enemies in this process. Both sexes should focus on cleansing social ills and improving human well-being (NOT women well-being alone), so we can left behind a changed society for our future generations who will be proud of and duly thankful.
In developing democracies, it is mostly during election times that paid media debates to garner women vs men votes… in normal times what prevails is "Jiski laathi uski bhains – जिसकी लाठी उसकी भैंस", more so in UP, Bihar, et al… duplicate bahubali gangs having full support of kings and queens, heroes and heroins of our political tamasha BIG parties.. That is the REAL issue, and this part is gender neutral! Who termed the word "Political Science" – what is so science about it? A better approach is to merge social and political ideas – wipe out terms like politics, opportunism, jugaduism, strategic thinking, bhaktoism, bribing diplomacy, guru mantra, neta supremacy etc… from public life altogether.