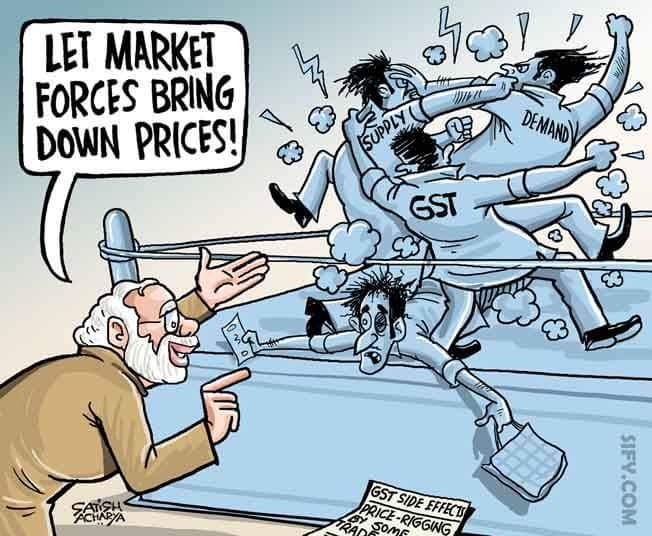 Smelling academic works, looters dance and graphical marketing reports or models – fear #SmartCities will just boil down to percentage of smart phone owners who installs privately branded mobile apps and infrastructure promoted by monopolistic cronies thanks to outlays based on huge International loans. Just like sober black money heaven metropolies worldwide.. Switzerland, Liechtenstein, Mauritius, Cyprus, Panama, Seychelles, Singapore, Gibraltar, Bahamas, Luxembourg, Channel Islands, Cayman Islands, bla bla. There are always unholy attemps to filter out like-minded smart / successful crooks under towering roofs – forming larger cozy clubs of capatilistic mercenaries!
Partnership between big cronies driven monopolies to create new prediction models for cities so real truth of their lives and those who were sucked to create smarter cities, can be chopped of common human radars by smart babaS / mataS / WestS. What really makes a city smart is due to collective character of people inhibiting, but that is just bookish and will be shared socially once hype overshadow human wisdom and segregation of cronies / fools in smartest real estate is over, and twisted development ideas promising bigotry are almost sold out.
Arts and culture strategies help to reveal and enhance a city's underlying identity – the unique meaning, value, and character – of the physical and social form of the community. This identity is reflected through the community's character or sense of place. A community's sense of place is not a static concept; rather, it evolves and develops over time, reflecting the spectrum of social values within and around the community. The sacred can be understood not only in individual terms, but also in terms of relationships, settings or jugaad cluture, and other chor-bhakt injected community dynamics. The sacred has powerful implications for human behavior; it can be an organizing force and a resource to people in their most difficult times, yet it can also be a source of seemingly intractable problems; with rising inequality overall.
A city may look smart in short-run by creating / pampering a few private brands via socialization of losses. But community character of a city, village, town, or neighborhood must be seen as a story or narrative of a place NOT via fancy lenses of a few glorified ruling cronies. Awareness of city identity and character is strengthened by the consideration of all community interests in decision-making processes; the integration of arts and cultural resources with civic visioning programs; and the balancing of the inherent conflicting nature of past, present, and future social values. The design of urban infrastructure, such as architecture, streetscapes, sanitation, energy, communications, transportation facilities, and so on, presents an opportunity to interpret the many constituent elements of a sense of place: the natural environment, history, culture, language, and aspects of environmental, economic & social conditions.
Ideal goals are to integrate city smartness with architectural, technology, landscape, and infrastructure design of capital projects; to coordinate the efforts of various departments, commissions, and residents to identify and implement public interest projects; and to focus staff time and financial resources on projects with the strongest citymaking impact. Through the development of creative streetscape design, transit facilities, street signage, and other infrastructure, smart citizens can inform, educate, and comment on these local conditions. For example, through investment in the integration of public cluture in water, electricity, telecom, road, real estate and sewer infrastructure, a city provides essential services to residents while also enhancing sense of place and a sense of pride in residents of the neighborhood. (Jun 25, 2015)