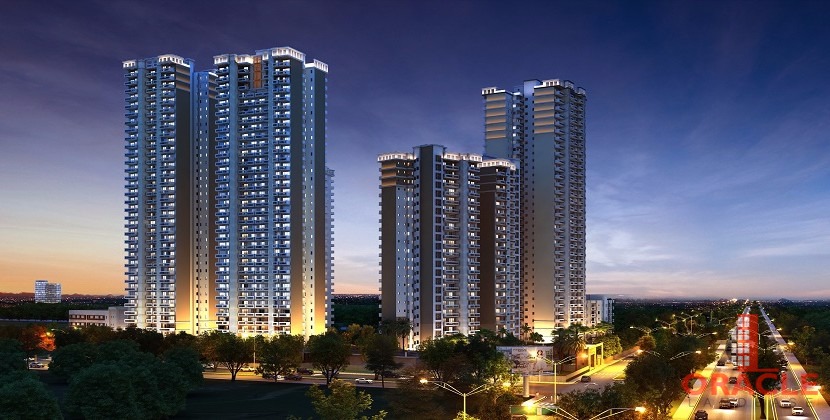 CENTRAL ARENA: Approx. 6.5 acres. Of organized landscaped acres comprising of party lawns, play area for Tiny Tots, Exercise Zones, Celebrations Courts, Amphitheater, Bio Ponds, and Walkways.
RETREAT POOL: 11,000 Sq.ft. of water spread – comprising of six Olympic size lanes along with Jacuzzis , Massage Pools, Water Aerobic Pools.
INTERMEDIATE TERRACES: 30,000 Sq. ft. of landscaped terraces spread across towers at three levels.
Facilities:-
1. SKY HUB (Approx Area) – 60,000 Sq.ft out of which 45,000 Sq. Ft of Landscaped Area on Three Deck Levels.
2. Sky Lounge with Private Party Halls – 5,000 Sq. Ft (Approx).
3. Sky Spa – 3000 Sq. Ft. – Comprising of Steam /Sauna/Facilities for Male & Female separately along with Treatment Rooms.
4. Sky Gym – Approx. Area 3500 Sq. ft. – Comprising of Gym, Pilates Section, Aerobics, Yoga Halls + Change Rooms with Outdoor Jaccuzi.
AAROHAN RETREAT: Total area of 30,000 Sq. ft.
1. Retreat Gym – 2000 Sq. Ft Approx.
2. Retreat Café – 2500 Sq. Ft Approx.
3. Billiards, Indoor Badminton Courts 2 Nos., 2 Squash Courts, T.T. Room, Toddlers Zone, Business Center, Cards Room, Multifunction Hall along with party lawns. Home Theater 40 capacity.
Project Highlights:-
– 19.5 Acres Residential Development in Sector 53 on Golf Course Road Gurgaon.
– 34 & 36 Storey High-Rise Iconic Towers (3 Towers Launched In Phase 1).
– Ultra Luxury Fully Loaded 3 BHK Apartments and 5 BHK Duplex Apartments.
– Apartment's Size Ranging from 2000 To 5450 Sq.ft.
– 4 Apartments on Each Floor With 4 Spacious Lifts Along With an Additional Service Lift for Each Tower.
– The Interiors Are Planned and Designed To Let In Ample Light And Ensure Cross Ventilation.
– Separate Living & Dining Spaces and Exclusive Utility Balconies with Kitchen.
– Spacious Dressing Room and a Family Lounge for a Perfect Celebration.
– Large Terraces Opening Up To Spectacular View – That's a Glimpse of a Typical Aarohan Home.