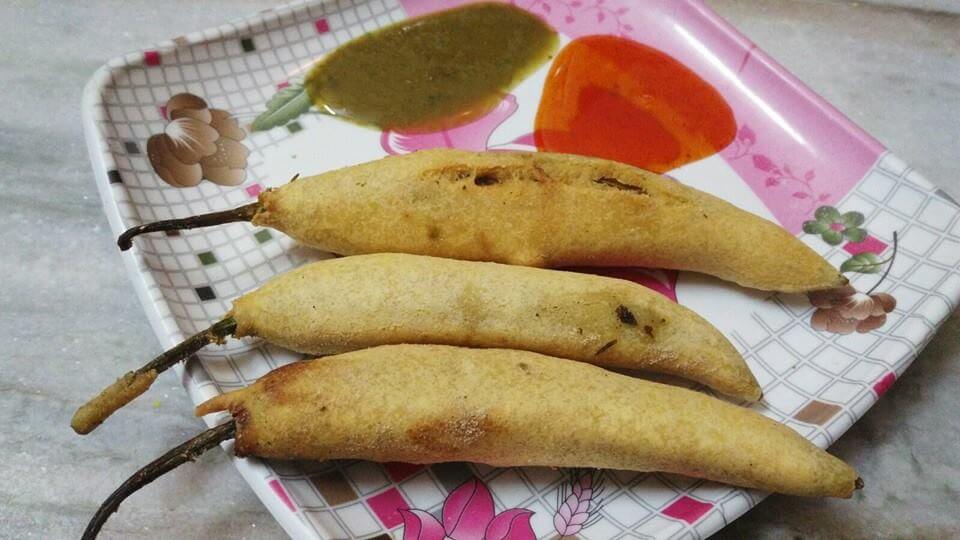 Large green chilies stuffed with spices, dipped in gram flour batter (besan) and fried to golden. These Mirchi Pakora can be served as starters or as side-dish with meal. Enjoy mirchi-pakoda with hot cup of coffee on a rainy day.
Ingredients
10 Large Green Chilies
1 Spoon Amchoor (Dry Mango Powder)
1 Spoon Coriander + Cumin Powder
1/2 Spoon Red Chili Powder
1/4 Spoon Garam Masala Powder
1 Tablespoon Sugar
1/2 Spoon Salt
2 Spoons Cilantro (Coriander leaves), chopped
Oil for Deep Frying
For the Batter:
1/2 Cup Gram Flour (Besan)
1/4 Cup Water
A pinch of Baking Soda
A pinch of Turmeric Powder
1/2 Spoon Green Chili Paste
1/4 Spoon Ginger Paste
Salt to Taste
Method:
Wash, wipe and slit the chilies along the length.
In a bowl, add amchoor, coriander-cumin powder, red chili powder, garam masala powder, sugar, chopped cilantro, salt and 1 spoon of water, mix well.
Fill it inside the chilies, keep aside.
For the batter, mix all the dry ingredients in a bowl.
Slowly add in water, to make a smooth batter.
Add green chili paste and ginger paste, mix well.
Heat oil in frying pan on high heat, when oil gets hot enough for frying, reduce flame to medium.
Dip stuffed green chili in batter, make sure to cover entire chili in batter.
Place gently in oil, fry pakoras in small batches.
Fry till its gets golden brown on all sides.